Equipment is available on a "wet hire" (operator supplied) basis.
Projects include Roads and Maritime Services, Sydney Trains, Forestry, National Parks & Wildlife Service, Sydney Regatta Centre maintenance work and Taronga Zoo Koala browse plantation maintanence, plus private and civil projects including road construction, concreting, landscaping, irrigation installation, land-clearing, tree-felling, rural fencing and drainage works.
Tractor Worx has the right sized equipment and experienced operators to deliver the best results and advice for your earth moving and mowing needs.
Deal direct with the business owner and decision maker with unequalled experience and reputation in delivering results on time and on-budget with no fuss.
Tractor Worx is fully accredited with all Work Cover licenses, follows a strict Work Health & Safety policy and continuously risk assesses to maintain safe operating procedures.
A full range of our equipment is listed below
Reach Mowers - John Deere 4WD 105hp enclosed aircon cab
Reach Mower - John Deere 4WD 90hp enclosed aircon cab
Tractors - from 60hp to 4WD105hp enclosed aircon cab
5.5t Excavator - rubber tracks, 2 metres wide, enclosed aircon cab
80hp Skid steer loaders, Enclosed aircon cab, 1.8m wide
Out-front mowers - 6ft cut
Trucks -
Bogie axle 12t Tipper
Bogie axle Flat bed
Single axle Tilt tray
6 metre reach side arm mower (8 hours minimum)
- 1.2 metre cut (up to 25mm diameter)
Front-mounted flail mower
- 2 metre cut (up to 35mm diameter)
5 metre reach side arm mower
- flail head 1.2 metre cut (up to 25mm diameter)
- saw blade unit 2 metre width (up to 100mm diameter)
Front-mounted flail mower
- 2 metre cut (up to 35mm diameter)
6ft Slasher
2 metre flail mower (up to 50mm diameter)
2.4 metre finishing mower
other attachments available
buckets (300mm, 450mm, 600mm, 1.2m) Auger*#, log grabs, ripper, hammer, mower head 1.2m cut (regrowth to 25mm), sawblade unit 2 metres (up to 100mm diameter)
4 in 1 bucket, leveling bar, auger*#, bucket broom road profiler (450mm wide) gras slasher, heavy tritter mower 1.8m cut
* Augers 150mm to 650mm wide, up to 3.5 metre depth
# rock teeth available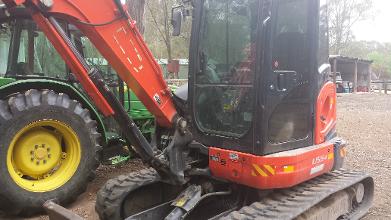 © Copyright tractorworx.com.au